jlager
New user

Date registered: Sep 2017
Location: Vancouver, Canada
Vehicle(s): 1980 230g
Posts: 3


Engine swap advice - 230G to diesel
---
I'm looking for advice on an engine swap on a LWB 1980 230G (M115 engine) with a 4 spd manual. I have spent hours reading up on swaps and browsed through all 433 pages of this forum finding as much as info as I can but still am not clear on a couple things I'm hoping you can help clear up. I'm located in Vancouver, BC, Canada and in terms of donor cars, the most common is a 300D with an OM617A. There are some OM603s and very few OM606s available. I have never done an engine swap or even removed an engine/transmission before although I have worked on pretty much every other component of this truck. That said I want to try and keep this as simple as possible due to my lack of experience with something like this. For that reason, an OM617a seems like the best option for an engine swap (open to having my mind changed on this if an easier option is available locally to me). Assuming I go with an OM617a, these are the things I think I know and also what I'm unclear of:
I would like to keep my 4 spd manual (I do a fair amount of off roading and I understand the sedan autos will not stay in 1st gear). I understand an OM617a will bolt right up to it as the starter is on the same side.
The issue of the flywheel… I haven't been able to tell if I can reuse the flywheel from my M115 engine or not. I know I need to (or should at least) match balance it to the flex plate of the donor car but some say the flywheel I have will be too light for the OM617a and some have done the swap with no issues and no mention of this as an issue. Does anyone know for sure?
Engine mounts. I have read a post of someone swapping an OM617a into a 230G and just taking the mounting arms off their M115 engine and bolting them to the OM617a. Can anyone confirm whether this is true or whether I need to buy/make new engine mounts?
I know I will have an issue of the oil pan sump potentially hitting the front diff. I can either move the engine forward (custom mounts required for sure?), cut and weld the oil pan to make some room, or fit lift springs to work around this issue.
If I go with the option of moving the engine forward, that means the transmission moves forward too, correct? Is there enough splines in the slip joint driveshaft to accommodate this without being too weak or will I need to lengthen the driveshaft?
If I go with the option of moving the engine forward, and thus the transmission, I will need to lengthen the shifter linkage, correct?
I think that's it for now. Hope someone can shed some light on this :)
(20200814_115302_resized.jpg)




Attachments
----------------


20200814_115302_resized.jpg (135KB - 0 downloads)
H1LM002G55
Expert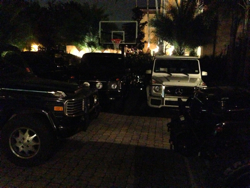 Date registered: Mar 2010
Location: S Florida / Geneva / Jeddah
Vehicle(s): 500 GE, G55, LM002, H1
Posts: 1794


Re: Engine swap advice - 230G to diesel
---

Better to ask this on a German G forum or GWOA. More experience there with this sort of thing.
otiswesty
Expert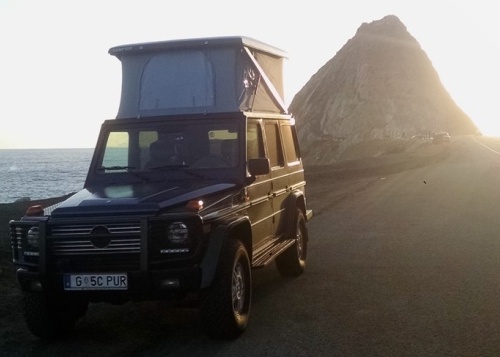 Date registered: Jun 2007
Location: Portland, Oregon
Vehicle(s): 460 461 463
Posts: 2771


Re: Engine swap advice - 230G to diesel
---

Hipine has done this from a 280GE, maybe he will chime in here. I understand that the gearing for a 617a is well suited to the 230GE gearing, more so than a 280GE. Warren T is an expert on Gwagen 617 swaps as well, so be sure to reach out to him if he doesn't respond.